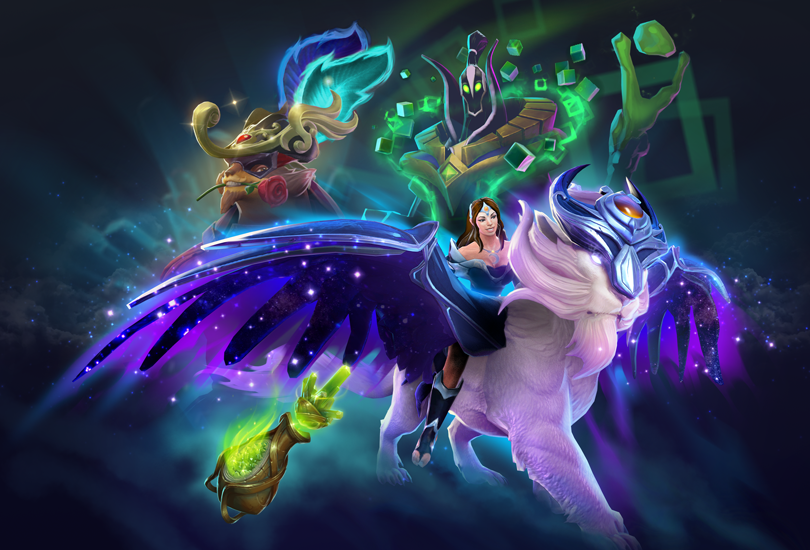 O Tesouro Engarrafado do The International 2018 já está disponível, apresentando novos itens para Huskar, Ogre Magi, Pangolier, Venomancer, Rubick, Disruptor, Silencer e Storm Spirit — Contando também com um modelo refeito para o indomável Huskar celebrar o seu novo Immortal.
Cada tesouro oferece também a chance de receber um item raro da Windranger, uma versão dourada muito rara do item do Storm Spirit ou ainda uma montaria extremamente rara para Mirana.
Você também pode apoiar a sua personalidade favorita no evento deste ano comprando versões autografadas do Tesouro Engarrafado. Basta selecionar a personalidade desejada no menu da loja para insculpir o autógrafo nos itens contidos no tesouro.
Itens de espectador
Este ano, mais uma vez, distribuiremos itens especiais para espectadores na Rogers Arena. A cada primeira vítimas nas partidas, um número limitado de tesouros do espectador será distribuído, cada um com versões visualmente únicas de Imortais selecionados deste ano e insculpidos com uma gema que contabiliza primeiras vítimas. Para receber esses itens, você precisará ter um crachá vinculado a uma conta Steam e estar na arena no momento da primeira vítima. Nós esperamos vê-los no The International.
Evento Principal do The International
Após quatro dias de ação intensa, a Fase de Grupos do The International 2018 se concluiu, resultando na eliminação da Invictus Gaming e da paiN Gaming.
Team Liquid, Evil Geniuses, PSG.LGD, OG, VGJ.Storm, Virtus.pro, Team Secret e OpTic Gaming avançam para a chave superior do Evento Principal.
Equanto que a Fnatic, VGJ.Thunder, Mineski, Winstrike Team, Newbee, TNC Predator, Team Serenity e Vici Gaming se enfrentarão nas cruciais rodadas melhor de 1 da chave inferior, na segunda-feira, 20 de agosto na Rogers Arena.
A transmissão terá início às 14h00 (Horário de Brasília). Visite o o site do The International para mais informações sobre as diversas maneiras de assistir o evento.