A atualização dessa semana continua nossos preparativos para o The International com mais novidades para os nossos sistemas de Espectador e Torneio.
Pra começar, nós temos uma nova visão de Espectador da fase de seleção de Heróis. Nós não só achamos está mais bonito mas agora os espectadores poderão examinar os heróis e suas habilidades enquanto estão sendo selecionados.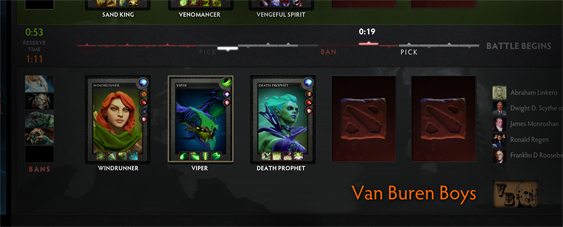 Você também perceberá que o painel de Torneios agora conta com um histórico de partidas já assistidas e a habilidade para os espectadores as avaliarem. Você pode dar sua avaliação de dentro de uma partida em andamento ou a partir dos detalhes da partida ao selecionar uma partida recente.

The Defense do Joindota está chegando perto das rodadas finais e, por conta disso, nós estamos promovendo um fim de semana gratuito para assistir a este Torneio. Todos os jogadores de Dota 2 poderão assistir às partidas ao vivo e qualquer replay até segunda-feira – bem em tempo para ver Mouz, CLG, Na'Vi e POTM Bottom sair no arranca rabo.
A lista completa de atualização está disponível aqui.